BlinkGroup is Proud to Present 'iCAN Pop', The New Exhibition by Renowned Miami Pop Artist Carlos A. Navarro
Miami, FL -
Exhibiting for the first time in three years
, Navarro will be debuting his latest works at the Wynwood Exhibition Center from Thursday, October 10, 2013 through Friday, October 25, 2013. Vernissage will be held on October 10th at 7PM.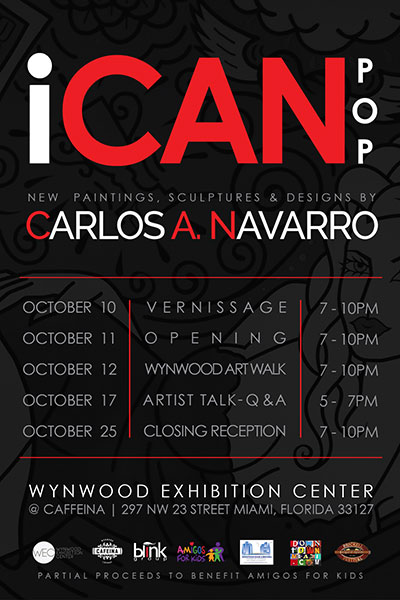 Including 15 new works, Carlos A. Navarro will be showcasing his new collection of paintings, sculptures and designs. "iCAN Pop", showcases Carlos A. Navarro's approach to fusing Pop Art's vibrant colors with traditional Cuban, Miami and other contemporary themes. Attendees can expect to see new subject matter, as well as varied dimensional mediums and materials.
Since childhood, Navarro has been heavily influenced by both his upbringing in New York & Miami, and classic Pop artists such as Andy Warhol and Roy Lichtenstein, as well as Dali & Picasso. Navarro's work displays a wide range of subject matters, from romantic and nostalgic to humorous and political.
The "iCAN Pop" exhibition also runs during
Hispanic Heritage Month
. With Navarro's Hispanic roots and Cuban/Miami based Pop Art, this is an ideal opportunity way to celebrate art & Hispanic culture in South Florida. Navarro will also be
donating
partial proceeds from this exhibit to benefit Amigos for Kids (A Miami-based nonprofit organization that aims to prevent child abuse and neglect).
On October 17th, guests will have the unique opportunity to experience a talk by Carlos A. Navarro followed by a Q&A session.
DATES OF EVENTS FOR EXHIBITION:
October 10 - Vernissage - 7pm-10pm
October 11 - Opening - 7pm-10pm
October 12 - Wynwood Art Walk - 7pm-10pm
October 17 - Artist Talk / Q&A - 5pm-6pm
October 25 - Closing Reception - 7pm-10pm
Carlos A. Navarro's exhibition is partnered with Blink Group,(A marketing firm for visual artists).
Hosted and curated by Elizabeth Reyes, Founder of BlinkGroup and Alexandra Novaro, co-founder of BlinkGroup. Other sponsors and supporters including: Amigos for Kids,
DowntownMiami.Com
, Downtown Miami & Brickell Chamber of Commrence, and Brickell Festival Cigar and Spirits and always The Wynwood Exhibition Center @ Caffiena. For more information regarding "i CAN pop" exhibition, contact Elizabeth Reyes at Elizabeth@blinkgroup.net or visit
BlinkGroup.net
.
For additional information pertaining to the artist, artwork or events please contact:
Elizabeth Reyes (Lola)
Blink Group
Email: Elizabeth@blinkgroup.net
Phone: 305.794.9638
Web site: www.blinkgroup.net
Alexandra Novaro (Alex)
Blink Group
Email: Alexandra@blinkgroup.net
Phone: 786.970.1936
Web site: www.blinkgroup.net